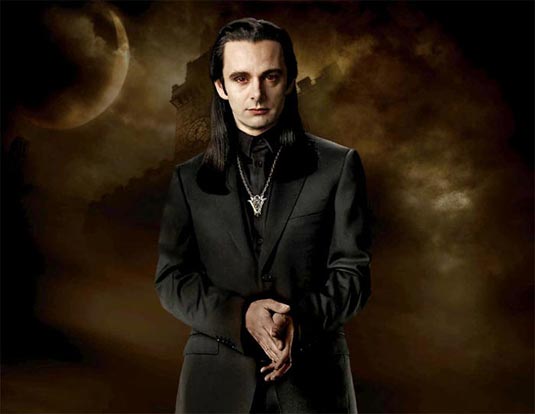 Character Basics
Name: Aro
Date of Birth:1300bc some websites said 1000bc
Sex: Male
Species: Vampire
Eye Color: Jet black
Hair Color: Milky red (black when thirsty)
Height: 5'8
Weight: 180lbs
Appearance:
Aro has very pale skin that is almost translucent. It's similar to
onion skin. His hair is very long and jet black. When he moves, it
appears as if he is floating.
Character Bio
Abilities: Aro has the ability to read every thought you have ever head, with the execption of Isabella Swan
Personality:Aro
normally carries himself in a cheery disposition and has shown to be
polite to the point of being at complete ease with even the most
objectionable of situations. However, beneath this facade of optimistic
giddiness, he is power-hungry and highly manipulative. He finds Bella
Swan's immunity to mental powers, including Jane's "pain" power,
intriguing. He invites her to be in the Volturi Guard twice after she
becomes a vampire, but both times she refuses. This upsets and
surprises Aro, but does not infuriate him.
He holds power over
everything and is willing to go to any length to secure his status,
even if it means killing those he loves, as exemplified when he
murdered his sister Didyme in order to keep Marcus in the Volturi.
He
has shown himself to be an avid collector of talented vampires that he
finds desirable to recruit for the Volturi guard especially his
personal guard, Renata, and Jane. He deeply believes that the Volturi
is necessary for the survival of the vampire species, with its bylaws
that hold secrecy of the existence of vampires to the utmost
importance. Due to humanity's continuously advancing technological
prowess to the point where there are already weapons in existence that
can kill vampires, he speculates that it is only a matter of time
before they create more devastating constructs that may be able to wipe
out the entirety of vampire-kind on Earth.
History:
Approximately a decade after having been transformed into a vampire,
Aro also changed his sister Didyme, with hope that she would possess an
ability akin to his. However, she was blessed with an ability not as
useful to him; the power to make people happy. Aro's colleague Marcus
fell in love with her, and she with him. However, Marcus and Didyme
eventually became discontent being involved with Aro's rising
organization, the Volturi. In order to prevent their leaving, Aro
killed Didyme: Marcus was too integral to his plans to lose. Marcus
never found out what Aro did, and Aro then had Chelsea use her ability
to ensure Marcus remained loyal to the Volturi.
By 500 AD, the
Volturi had usurped control of the vampiric world from the Romanian
Coven. Aro ruled the Volturi, along with Marcus and Caius, although he
generally acted as its spokesperson. The Volturi, under the three
ancients' leadership, set down the laws of the vampire world and
severely punished those who did not adhere to them.
Carlisle
Cullen came to live with the Volturi for some time, and became close
friends with Aro. However, Aro was alarmed at Carlisle's preference of
"vegetarianism", and believed that this would only weaken him over
time. Carlisle eventually left to find other vampires like himself.