Wolf Form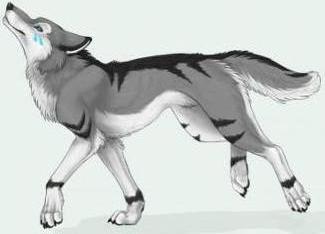 Name: Lupa Morrik
Gender: Female
Age: 19
Race: Werewolf
Birth Day: August 1990
Occupation: Student, works in Miss Ruby's restaurant
Description: Lupa is very strong willed. Can be thought of as a very girly girl by the way she humanly dresses but to her, it simply off sets how she acts as a wolf. As a wolf, she likes to get down and dirty, rough housing with the males is something that she often starts. While in human form, a simple cut seems to hurt her. Because she is so different in each form, it is thought that she actually two different people.
Since you aren't able to see eye colors in either picture: A purple pink color (pansy purple) while she's in human form, a beautiful (redwood) red color.
History: Lupa was born into a werewolf family. Both parents were alphas and she was to take on as alpha when she was old enough. Her home was similar to La Plush, very close knit and most of the people living there were part of the pack in one way or another. Her pack was in Montana. After hearing about the pack in Washington, she left her pack to travel to Washington and see if she could help. There was a rumor about werewolves and the other creatures being told to the world, her mother and father, along with their ancestors, had worked very hard to keep the packs in Montana safe from humans and not be found out. Hearing the rumor, it angered them all. There had been several wolves, in their own pack, that had been found out by humans. The humans wanted to kill the werewolves. So, hearing about the rumor didn't exactly make Lupa or her pack very happy.
Once she reached Washington, she first went to speak with the La Plush packs. It was just after this that one of her pack showed up. It turned out that after he left, the pack was attacked. He had no idea what had attacked the pack but no one had survived. It was only days after this that the wolf died, having injuries that couldn't be healed since they had been like that for several days. Because she had no home to go back to, Lupa stayed in La Plush and worked with Miss Ruby in her restaurant.
Personality: Lupa seems to have a split personality. As a wolf, she is very tomboyish, playful and hyper much of the time. In human form she is more calm and more lone, even if she is a werewolf. Happy to follow the lead of someone else, has a sharp tongue and speaks her mind usually. Normally one you have to look at twice to actually understand what you're looking at, who she really is.
Strengths:
- Rough housing
- Running
- Shifting thoughts, making people think they thought something else - helped much when several wolves were found out
Weaknesess:
- Human form it seems
Ability: She is able to run faster than a normal werewolf would be able to. The runner and hunter of the pack would suit her well with this ability. Can also shift thoughts, making people think they thought something else - helped much when several wolves were found out. (Wasn't sure where it would fit)
Family: Both mother and father died.
Friends: Miss Ruby, La Plush pack(s)
Other:
Drives: